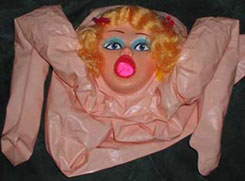 Nice interview with Shaquille O'Neal this week in Time Magazine, of all places. The Diesel continues to be the best interviewee in the NBA since Charles Barkley retired... this nugget was my favorite:


"The ball is terrible. It's something we'll just have to get used to. Playing with the new ball is like going to a gentlemen's club, seeing an exotic dancer and then going home and playing with a plastic blow-up doll."
Interesting image, Shaq. And nice to see that things have calmed down for NBA stars since the heyday of the
Gold Club
.
But I digress.
The rest of the interview is good, too. Shaq talks about his role in a botched raid on a child pornography suspect's house, his ambition to someday become Miami's sheriff, and the Heat's chances of repeating as NBA champs.
Of course, after the
beating they took
at the hands of the Bulls last night, he might want to revise that last bit. Shaq netted just seven points in the loss, which was the biggest opening night beat-down of an NBA champion ever.